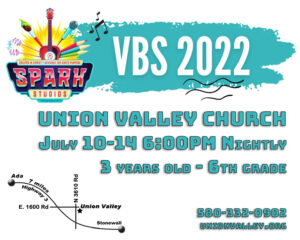 VACATION BIBLE SCHOOL:
VBS is scheduled for Sunday July10th through the 14th 6pm nightly for ages 3 through 6th grade. This year's theme is "Spark Studios" based on Ephesian 2:10″ For we are His workmanship, created in Christ Jesus for good works, which God prepared beforehand, that we should walk in them." Teachers and helpers are needed for every area. If you would like to volunteer, please tell Sharla Frederick ASAP.
Konawa Gospel Sing: The 58th Annual Konawa Gospel Singing is Saturday evening August 6 at 6:00PM. Featuring The Browders, The Williamsons, Kevin Spencer, & more!
Seminole Gospel Singing: The 53rd Annual Seminole Gospel Singing if August 11-13. Featuring Jeff & Sheri Easter, Gold City, Karen Peck & New River, Tribute Quartet, LeFevre Quartet, & more. For tickets, and more info, please go to Thegospelstation.com